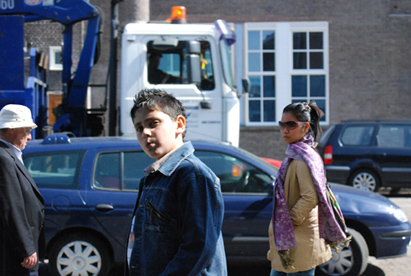 touchscreen by daniel zimmer

exhibition 18.09. - 11.10.2009
opening friday 18.09.2009 20.00h

talks & thoughts on self-reflection
friday 09.10.2009 21.00h
daniel zimmer, helen gras (fashion communication) and
jessica pass (phd psychology, with a research focus on self-confidence)

perform photography
saturday 10.10.2009
09.00h: kunstmarkt, broedstraat van der pekstraat
12.00h: 25 portrait commissions at rhizomatic
the project@ Platoon Kunsthalle Seoul Korea 2009,
daniel zimmer artist-in-residence
www.platoon.org

Daniel Zimmer, *1977 in Borken (DE), based in Amsterdam
As a documentary photographer Daniel Zimmer deals with detecting human behavior within a social and cultural context. It is a crucial aspect of his work to capture people and their life philosophies. The portraits are never heroic. They show the intimate side with a sense of humor. www.zimmergeradeaus.nl
"Mirror, mirror, on the wall: who's the fairest of them all?", the evil queen in Snow White, fairy tales of the Brothers Grimm. When you pass by rhizomatic project space at daytime, you cannot look inside: the only thing you will see is your own reflection in the window. The space has two-way-mirror windows installed by the former owner, a print shop. The space seems hermetically shut off from the outside. Likewise, it is confronting sitting inside with passers-by continuously looking at themselves. It feels as if they are staring at you.
In May 2009 Daniel Zimmer began shooting portraits of the passers-by, hidden behind the windows of rhizomatic. The photographs confront the viewer with the same visual experience like sitting in the space: it takes some time until you realize that the people do not look at the photographer, as the mirror object is not present in the picture – an invisible tool. So the viewer becomes part of the self-reflection of total strangers, a voyeuristic view as we know it from psychological experiments, from TV: the big brother experience. And the mirror has always been an important artistic tool and object: Velàzquez's Las Meninas, Jan van Eyck's Arnolfini Portrait; the self portraits of Van Gogh would never exist without it. At the same time the mirror has always been a highly controversial object with all its negative implications – connected to vanity: the tempting, the forbidden look in the mirror. Beauty will fade away like Narcissus in Ovid's metamorphosis magically fades away when falling in love with his own reflection in the water. And isn't the mirror often believed to be the reflection of the soul, vampires don't have a mirror reflection and as we know from the fairy tales: the mirror always tells the truth.

With touch screen the space from outside will become part of the gallery: the people from the neighborhood are the central topic of the exhibition. The project has a strong link to psychology and with people checking their looks, to fashion likewise. In two talks various perspectives on the topic will be discussed. With perform photography, everybody can become part of the project and get one's own mirror-portrait. So, if you always wanted to know how it looks like when you have an intense look at yourself, pass by rhizomatic or the kunstmarkt that day.